A Home Away From Home
at Marina Close
About Us
A Modern Holiday Home Just Minutes From Cornwall's Beautiful Beaches
No.1 Marina Close is in the heart of St Merryn village near Padstow, allowing easy access to all the local amenities and the stunning beaches of the Seven Bays of North Cornwall.
Marina Close is perfectly placed to offer your family everything it needs to enjoy a holiday in this amazing part of Britain.
All home comforts and so much more, just minutes from Cornwall's amazing Atlantic beaches.
Watch our short walk-thru video to sample this delightful holiday venue experience.
Relaxation
Tastefully furnished in a delightfully modern style, the lounge is the perfect place to relax after a busy day on the beach.
Here you will find everything you need for an 'evening in' with friends or family.
Dining
Mealtimes are so important for everyone to get together and perhaps plan for the day ahead.
The large open-plan kitchen diner is light and airy, with French doors that open out onto the patio.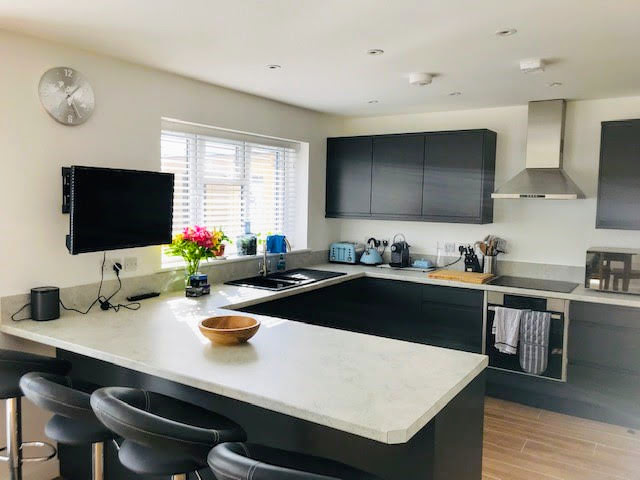 Catering
Although The Farmer's Arms with its popular restaurant is close by, sometimes you will want to cater for yourself.
The kitchen is both stylish and very well equipped, there is even a breakfast bar to gather round in the morning.
Master Bedroom
The property has three bedrooms and sleeps six people. The master bedroom has its own en-suite.
Throughout the property the same high standards are consistantly achieved.
Patio and Garden
A perfect little sun trap awaits behind the property, with its lawned area and large patio.
Garden seating,table and sun-brolly can all be found in the wooden storage facility.
Modern Comfort
Marina Close is the final word in self-catering in our village and its position, so close to Padstow and with The Seven Bays on the doorstep, what more could you wish for?
What you Get
Amenities, Services, & Travel Guide
Bars & Restaurants
Within St Merryn Village there are a number of places to eat and drink, including the very popular village inn The Farmers Arms, which has a large restaurant, two bar areas and a great value carvery.
Outdoor Activities
Walkers can access the Cornish Coastal Path within a short distance of the village and enjoy some of the most beautiful scenery to be found along the Atlantic Coastal areas.
Historical Sites
Tintagel is just a short car journey away and some say it is linked to the story of King Arthur. Whatever the facts, this spectacular cliff fortress is a wonder to visit.
A visit to Bodmin jail is a popular choice for visitors to North Cornwall, you might take a slight detour and visit the Camel Valley Vineyard on the way, one of the country's most celebrated vineyards.
There are stone circles, iron age hillforts and many other places of interest within easy travelling distance of St Merryn.
Family Entertainment
Children can enjoy the activity centre in The farmers Arms while mum and dad relax over a drink. A visit to Newquay could include a trip to the zoo, a Pirate Quest, a visit to the aquarium, or a train ride at the nearby Lappa Valley Steam Railway.
Sport & Recreation
You might like to take a boat trip from Padstow to Rock, or sail to Puffin Island. Surfers of course will be totally at home with some of the best surfing beaches in Britain.
Fishing enthusiasts could go on a shark fishing expedition from Padstow harbour, or try coarse fishing at one of the many local lakes.
Day Trips
There are so many things to do in North Cornwall, that you will need to come again to do justice to the area. Days Out might include a visit to the spectacular Eden Centre, or to the Lost Gardens of Heligan.
You might like to see the Bodmin and Wenford Steam Railway, or enjoy the quiet solitude of Lanhydrock House and Gardens. Maybe do something very different, such as visit the Museum of Witchcraft and Magic, there really is no shortage of things to do.
Visit North Cornwall in Style
Now Booking For 2022!
If you would like to know more about Marina Close just give us a call – Bookings are taken on a first come first served basis, so don't delay if you know the dates you want, availability will decrease rapidly after Christmas.
Any Questions?
For booking enquiries please use the form here for other enquiries please use the form below.
Sea Air A word of advice on why your holiday shouldn't be postponed by Covid 19 fears A Very British Holiday If you are amongst the less timid, more stoic types, you will have probably decided that beyond taking some sensible precautions, it is important not to lose...
read more