Harlyn Bay
A safe sandy beach Harlyn Bay (pictured above) is half a mile wide and is perfect for the family to enjoy a day out on the beach.
There are lifeguards throughout the holiday season and safe bathing areas are well marked out.
Harlyn is one of the most popular of the Seven Bays and has parking for a large number of vehicles and lovely cliff walks.
Trevone
This pretty little rocky cove is just over a mile from The Farmers Arms and is ideal for families with young children.
A little tide pool forms during the inbound tide and creates a delightful shallow bathing area.
Walk across the rocks at low tide and you will discover a host of little rock pools, perfect for children to discover a little about Cornwall's marine life.
Constantine Bay
A wide sandy beach giving way to pebbles and sand dunes, Constantine is popular with surfers due to its tall Atlantic breakers.
Limited parking of little more than a dozen or so spaces, means that most people park at nearby Treyarnon Bay and walk the Coastal Path, a walk of about eight to ten minutes.
Parking is limited but the beach is also accessible from Booby's Bay car park.
Treyarnon
Bordered by rocks on either side, Treyarnon beach faces north-west and is surrounded by low cliffs that give way to sand dunes.
Popular with families, there is a large expanse of sandy beach and close to shore the sea is generally quite shallow for bathers.
This is a popular beach for surfers during mid and high tides, but there are riptides during low tidal periods, when these are likely the lifeguards put out warning signs.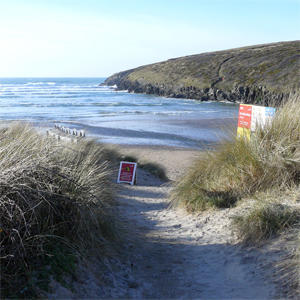 Porthcothan
Porthcothan beach is a north west-facing cove backed by grassy golden sand dunes.It is a popular beach and is dog friendly all year round.
The cliffs either side of the beach protect it from the wind, so it can often be the ideal choice if there is a chill in the breeze.
A sandy beach opens out at low tide, which links up with smaller coves to the north and south of the beach. Surf here tends to be unreliable.
There are public toilets and beach shops nearby.
Booby's Bay
Separated from Constantine Bay at high tide, but linked at low tide, Booby's is a great place to play beach games.
The National Trust has created a large car park here so there is generally ample parking for everyone.
Being a little inaccessible, it is rarely busy, even during the peak holiday season, but it is well worth the effort of getting to.
However, you will need to bring everything with you, as there are no facilities at this bay.
Mother Iveys
Mother Ivey's is a sheltered sandy beach, nestled between a privately owned holiday park and the Merope Rocks.
Protected on three sides from the wind Mother Ivey's is often warmer than the larger less protected beaches.
However, facilities are very minimal here, there are no public car parking areas and the only access is via Harlyn Bay by foot, unless you are staying at the holiday park.
Lifeboat Station
A new RNLI boathouse with a 240-foot slipway was built at Mother Ivey's Bay in 2006 and is able to launch into deep water from here.
Walk across the fields near Mother Ivey's Holiday Park you will find yourself at the perfect vantage point to see the lifeboat slipway just beyond another small cove.
This cove however is not recommended for bathers as you may easily get cut off by the tide.
Trevose Head
A popular attraction for visitors to the area is Trevose Head with its spectacular lighthouse.
Built in 1847 it was proposed three decades earlier to suppliment the protection provided along this coastline, provided by Lundy Lighthouse  to the north and Longships lighthouse to the south.
It stands aloft huge granite cliffs and can be seen from afar, even through sea mists that commonly shroud the shore.